Resources for Our Customers
SERVICE LINES
Housatonic Water Works Company (HWWCO) wants to provide you information that clearly defines our rules and regulations regarding service lines, so as our customer, we will be able to serve you in a timely and efficient manner.
It can be tricky to determine who is responsible for what when it comes to water service lines. HWWCO is committed to serving you and wants you to know exactly what we can do for you.
We are responsible for providing water to our customers and maintaining the water mains required to deliver water to homes and businesses. We also own the water meter used to measure how much water a customer uses.
You, the property owner, are responsible for the connection (tap) to the water main and the piping (service line) that carries the water from the water main to the water meter. You, as a customer, are also responsible to protect and provide access to the water meter.
When a problem occurs, HWWCO will assist in determining the cause of the problem and the appropriate course of action. Contact us at 413-528-1780 if you need assistance.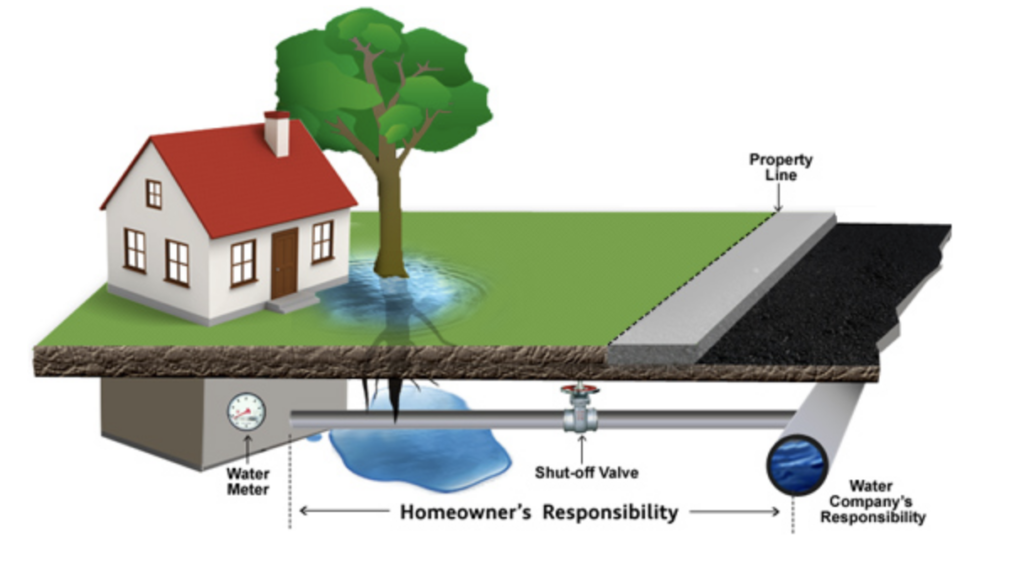 RATES
Download Printable Rates (Effective June 1, 2019)
SCHEDULE OF WATER RATES APPLICABLE TO ALL CLASSES
ISSUED: April 3, 2019
HOUSATONIC WATER WORKS COMPANY
EFFECTIVE: June 1, 2019
ISSUED BY: James J. Mercer, Treasurer
HOUSATONIC WATER WORKS COMPANY, M. D. P. U. No. 17
RATES FOR METERED SERVICE
Availability
These rates are available to all customers located on the mains of the Company, subject to the RULES AND REGULATIONS of the COMPANY.
Minimum Charges
Minimum charges with quantities of water allowed, without additional charge, will be made to each customer for each meter. Such charges and such allowances of water for each size meter are as follows:
| | | |
| --- | --- | --- |
| Size of Pipe (Inches) | Monthly Allowance (Gallons) | Base Minimum Charge (Per Month) |
| 5/8 or ¾ | 2,500 | $44.73 |
| 1 | 14,000 | $70.38 |
| 1 ½ | 8,000 | $140.51 |
| 2 | 12,500 | $220.66 |
| 3 | 25,000 | $443.42 |
| 4 | 40,000 | $709.17 |
| 6 | 80,000 | $1,416.65 |
Volumetric Charges
The following rate shall apply to all water use in excess of the Monthly Allowance set forth above by meter size.
Per 100 gallons per month, or any part thereof…$1.057
Fixture Rates
The following charges shall apply to all non-metered customers.
Monthly Fixture Rate
First faucet installation in sink, washbowl, or other faucet installation…$17.75

Each additional faucet installation…$6.10

Bathtubs (one bathtub installation)…$8.51

Each additional bathtub installation…$6.10

Toilet (one toilet installation)…$8.51

Each additional toilet installation…$6.10

Use of hose (first outlet) per season…$9.93
Installations
A faucet installation consists of an outlet of either cold or hot water, or both, in any one receptacle.

A bathtub installation consists of an outlet consisting of faucets or a shower of either hot or cold water, or both, in any one bathtub or like receptacle.

An automatic dishwasher is treated as an additional faucet installation.

An automatic laundry machine is treated as an additional faucet installation.

A toilet installation consists of a cold water outlet controlled by a self-closing floating valve with appropriate receptacle.

All such installations shall be deemed to be installed and subject to charge at the foregoing applicable rates unless both the water outlets and the receptacle drain of such installation are disconnected and plugged in a manner acceptable to the Company.
Fire Protection
Public hydrants now and hereafter installed or located by the Housatonic Water Works Company in the public streets and ways in the towns of Great Barrington, West Stockbridge and Stockbridge.
Monthly Charge
Public hydrants, producing a flow of 250 gallons or more per minute…$62.50

Public hydrants, producing a flow of 150 gallons and less than 250 gallons or more per minute…$50.28

Private hydrants installed at owner's expense will be charged $57.25 per month. Charges for sprinkler connections will be established by written contract between the Company and the private fire service customer.
Payments
Payment for unmetered service is to be made in advance for the month on the 1st. Metered service will be billed monthly in arrears.
Rules & Regulations
Download Printable Rules & Regulations (Effective November 1, 2016)